"It's… a hodge-podge of shit," Emma Karin Eriksson, 26, says bluntly about one of her zines, "Radical Domesticity." From her unabashed look under the warm glow of Bluestockings bookstore lanterns where she works, it is clear that Emma is more appreciative than self-deprecating. She stops picking her nail polish to smile at me. I will come to learn that Emma, it seems, has no fear when it comes to expressing herself.
Thumbing through the pamphlet-style books– neon yellow, pink, and orange each with their own sharpie-decorated cover– I find that what she says is true. They're charming, with sections like "Washing witchcraft" about removing stains, and the half-joking "How to dress for the real world when you're punk as fuck." The mini-articles give valuable advice, but with an edgy, crafty twist. In an interview with NYC Feminist Zinefest, Emma wrote that this particular series had been described as "punk rock Martha Stewart."
The zine, "pronounced zeen short for magazine," as Kanye West once wrote in a tweet, is an ever-growing medium, representative of the artistic freedom this generation enjoys. It blends all types of craft: poetry, non-fiction, visual art. Emma first started creating them in eighth grade, bringing them to rock shows (her first zine was called "Rage On"), then stopped until college came around, prompted by her learning of anarchism. Perhaps her most personal series is the one entitled "Hang Ups and Hard Work," revolving around sex and relationships: the stories of her sex work, her mental illnesses, her abortion.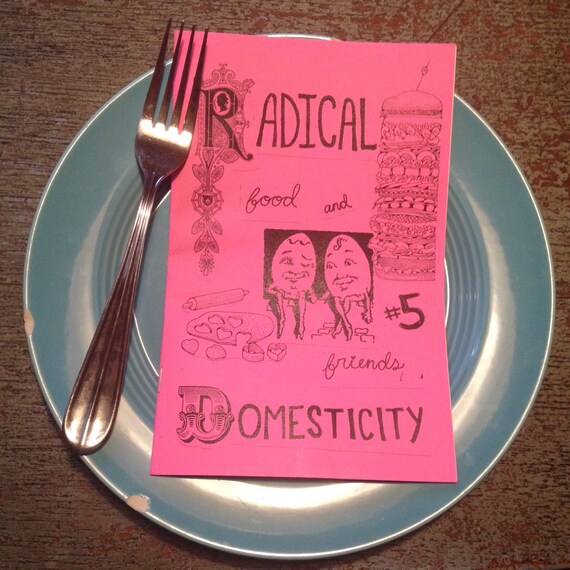 When I met Emma, I immediately felt both curiosity and comfort. She exudes the tenderness of a sister as well as an aggressiveness of character; with her bowler hat, bright red braids, and double-pierced nose, she is an indulgence for those starved of nonconformity. But one can almost sense that her unlikeness transcends her appearance. When I ask about her thoughts on hookup culture, she plops her feet up on the adjacent chair, shoots me a look like we're going to be here a while, and drags out the word "farce."
"It's difficult and it's weird" she says now about this series. "I would have sex with people so I wouldn't be alone." As she says this, she gazes out onto Allen St., the night alive with youthful chatter and fluorescent lighting, emanating from the restaurants which litter the street. Emma tells me about using speed and cocaine and uppers, which only served to worsen the manic episodes of her bipolar disorder. She tells me about her depression and anxiety, which were both causes and effects of the environment in which she grew up.
She tells me about losing her virginity at 15, and about how she thought trying anal would stop her boyfriend from cheating on her and it didn't, and about being raped. She had gone to a party after an argument with her boyfriend; the next day, she told him that she had sex with someone else.
"I don't think I fully comprehended that I had been raped," she says. Her boyfriend told her mom, and what came next was a blur. She delivers this information in choppy sentences: "Woke up. Found out I was pregnant. It was actually my boyfriend's. [My mom and I] ran over to the Planned Parenthood. I got an abortion two days later." After this, she says that her mother told her never to tell her father, that it would break him. Her mother told him one day, however, as a punishment.
A customer approaches Emma as we talk. With an accent, she says, "Excuse me, do you happen to know any queer bars for women?" Emma takes only a split second before answering, "The Cubbyhole." She leaves the table to research more options, her floral-patterned shoes shuffling across the floor. I take the opportunity to look around Bluestockings, a bookstore-cafe which doubles as an activist center. David Bowie's "Life On Mars" begins to play.
The store is an overcrowding of books, posters, zines, records, and decorations. Upon entering, you are confronted with a "game corner," and a basket of free condoms (one of many planted around the store.) Next comes the bar which runs across the length of the store, the signs behind it advertising cookies and coffee in bright, chalky lettering. There is an entire shelf devoted to stickers, and artwork on the tops of all shelves, encasing the entire room. It ranges from romantic watercolors done in blue and maroon and yellow to pop-style portraits to signs that says "Read fucking books all damn day."
"It's the freakiest show…" Bowie sings.
When Emma and the customer return, they are chatting like old friends. Immediately after the woman leaves, however, Emma starts and says, "I should have told her about Babeland! I fucked up. Should I run after her?" After reluctantly deciding against this, we talk more about the content of her zines. She smiles with excitement, especially in talking about the DIY nature of her work. She says her nanny used to show her how to make prints out of beets; this tip is one of the many she shares in her zines, which she sells at events and through her Etsy shop, PrettyDirtyPress.
When I ask her if she has any regret or guilt or sadness about the things that have happened to her, she responds in what already seems like typical Emma fashion.
"I'm not saying [life] would be better or worse. But it wouldn't be what it is today, and it's pretty fucking great."
*image courtesy of NYC Feminist Zinefest